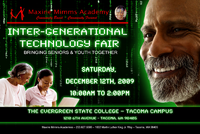 The Inter-Generational Mentoring Model is designed to bring seniors and youth in our communities together - deliberately, intentionally, and on purpose. They have much to learn from each other. The seniors are the glue that's missing in our attempts to mentor our youth and young adults. Instead of a steady hand and the wisdom of age at life's many decision points, we see our kids making decisions without choices. They simply don't understand that without choices, there's no decision to be made. They are simply reacting, and that's always a bad idea. How would they know?
Our beloved President Obama and Michelle were wise enough to bring the grandmother along to the White House to care for and keep the kids grounded. She's the glue that connects the kids to reality, while mom and dad try to solve the world's problems. All kids want and need the grounding rooted in the love, nurturing and acceptance that come from older and wiser adults. The seniors have one foot in the past and one foot in the present. The youth have one foot in the present and one foot in the future.
Together they meet the challenges of the present, and share the benefits of the past and future.