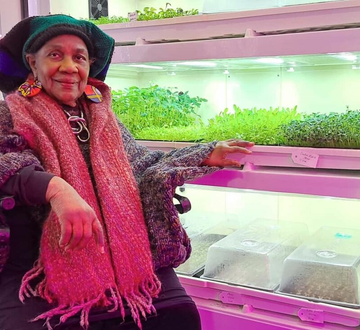 Academy founder
Maxine Mimms
recently visited the IFC Garden in Tukwila, Washington. The garden, established in 2021, is currently teaching indoor growing of microgreens and various leafy greens using multiple technologies. Teaching is coordinated by MMA technology director Michael Twiggs.
MMA's
indoor gardening program
was established in 2013 and has trained indoor gardeners in Seattle, Tacoma and other cities. In addition to indoor growing, the program explores business aspects of gardening and the potential role of urban gardening as an economic engine that can innovatively create opportunities based on addressing the "urban food desert" observed in many cities around the world.
Indoor Farm Collaborative
(IFC) is a joint venture of several Seattle-area organizations and firms.