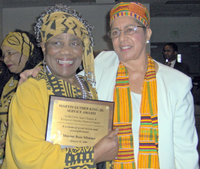 On January 19, 2008 the Washington State Chapter of the National Association of Blacks in Criminal Justice (NABCJ), and Evergreen College Tacoma Alumni Chapter held a Multi-Faith Prayer Breakfast honoring Dr. Maxine B. Mimms, Tacoma educator, mentor, and leader whose career spans over four decades. The event celebration was a part of NABCJ's MLK Day of Service used to recognize the contributions of those leaders in the community whose works transform the lives of others and who are making a lasting legacy for the work through the vision of Dr. Martin Luther King Jr.
Dr. Mimms' legacy was evident from those who came out to pay tribute to a pioneer that is paving the way for children to obtain meaningful and quality education. Dr. Mimms has long fought for advocates for children in the Community of Tacoma. Dr. Mimms' Academy is a community based and community focused institute which offers a variety of educational programs for youth and adults who need a new direction. They service primarily those children who are under-served, expelled or suspended from the traditional educational system. The academy assists children with continuing their education while in the above status through earning the needed educational requirements, life skills and mentoring needed for success.

For this event more than two-hundred tickets were given out to family, friends, community leaders, community members and the public at large who wanted to join and share in this honoring celebration. Among the most notable appreciations Dr. Mimms received was a proclamation from the Governor's office delivered by Washington State General Counsel Richard Mitchell, one from the city of Tacoma delivered by former Mayor Harold Moss and one from Dr. Les Purce, president of The Evergreen State College. Dr. Artee Young, Executive Director of The Evergreen State College-Tacoma was Master of Ceremony. The themes of these proclamations differed in their respects but centered on thanking Dr. Mimms for her work in the areas of education, mentoring and social advocacy work that has benefited the lives of all Washingtonians. A plaque from National Association of Blacks in Criminal Justice was given to Dr. Mimms . The Pledge to Save Our Youth, a poem by Dr. Maya Angelou, led by Beverly Farris; Vice President of Washington State Chapter NABCJ was affirmed with raised hands.

Of the many other highlights during the day two were prolific and memorable. One was a video that chronicled the significant events of Dr. Mimms' life which brought perspective to the video as she indicated she will reach eighty years old this month. Dr. Mimms spoke of being a fan of the theater, particularly opera, but it has been life experiences she has had that have been scenes which have played themselves out for others to see. More importantly, her work with people and the youth has been a dessert of the main course meal that we all need to get involved with to assure our children receive a quality education as those individuals will be responsible for caring for the older generations and we cannot afford not to get involved. The other was remarks from her son Dr. Ted Mimms, who spoke lovingly of his mother and a tragic experience as a child that he and a childhood friend had in the home. He said that such an experience normally leaves one brain damaged; however, in this case he was not and further said that his mother, Dr. Mimms, never let him forget as to what she thought of him and his intelligence by telling him as he lay asleep that he was a genius. In his remarks, Dr. Ted Mimms said that his mother sees the genius in everyone and it is this that we celebrate.